With 13 successful editions in Cairo, Middle East Coatings Show Egypt has established itself as the only dedicated event for connecting the coatings industry in Egypt. For three days, the trade exhibition facilitates serious business and networking opportunities for the coatings community.
The event creates the perfect environment for manufacturers, raw materials suppliers, distributors, buyers and technical specialists like formulators from the coatings industry to meet face-to-face and do business. That's not all, the event offers the opportunity to gather insight on the latest processes, exchange ideas with industry leaders and build a strong network in the region.
YOUR GATEWAY TO THECOATINGSINDUSTRYIN THE MIDDLE EAST
MIDDLE EAST COATINGS SHOW
Booth No. :1E60Date: 19 – 21 JUNE 2023Venue: EGYPT INTERNATIONAL EXHIBITION CENTER (EIEC)Exhibition hall:1Contacts:Joana ShiEmail:joana@farfly.comTel:0086-180171963771
Get tickets at the clues, one-on-one service on-site!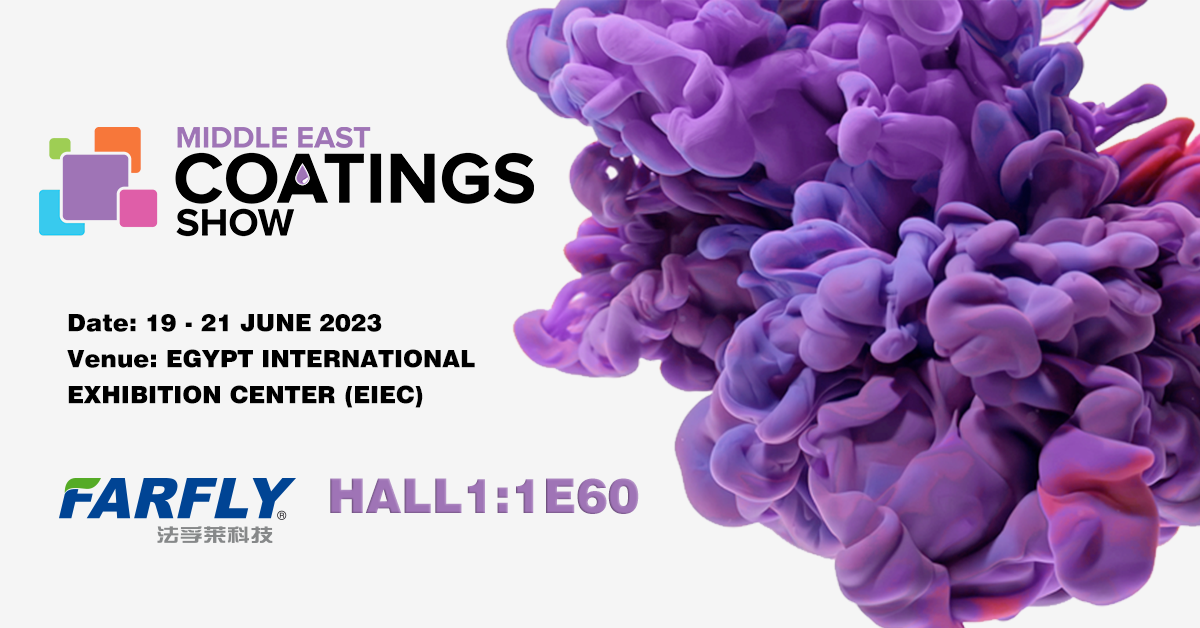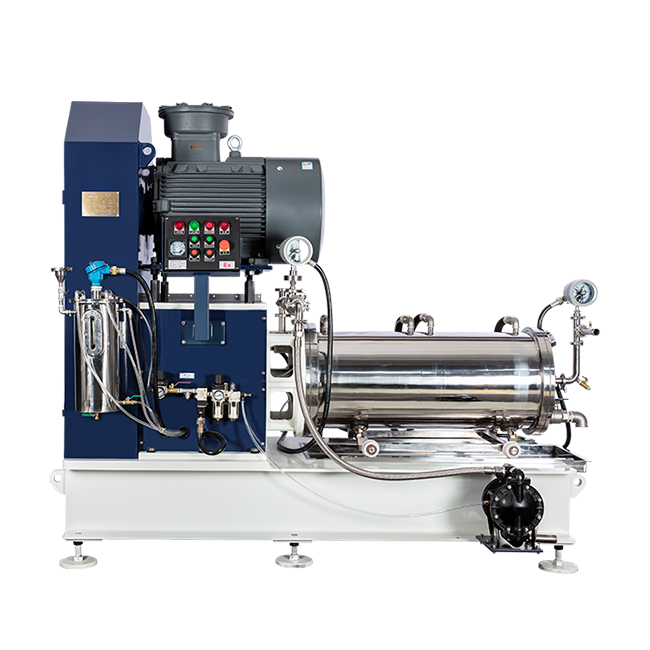 FSP High flux sand mill
Characteristics
• High flux—technology imported from Germany:static centrifugal discharging devices, large discharge area with high output.
• Intelligent double-end mechanical seal: German mechanical seal technology, imported perfluorinated seal ring, can withstand a variety of solvents.
• Grinding area is made of special high wear-resistant alloy steel material ensuring long service life.
• Cooling efficiency: Adopting segmented double spiral channel is more conducive to heat and cold replacement. Cooling efficiency is twice that of ordinary types.
• Grinding efficiency: It is more than 30% higher than ordinary models. The combined disperser group of grinding turbine and dispersion grinding disc can be used to quickly improve the dispersion efficiency. The grinding medium can choose ultra-fine grinding media, which is more efficient.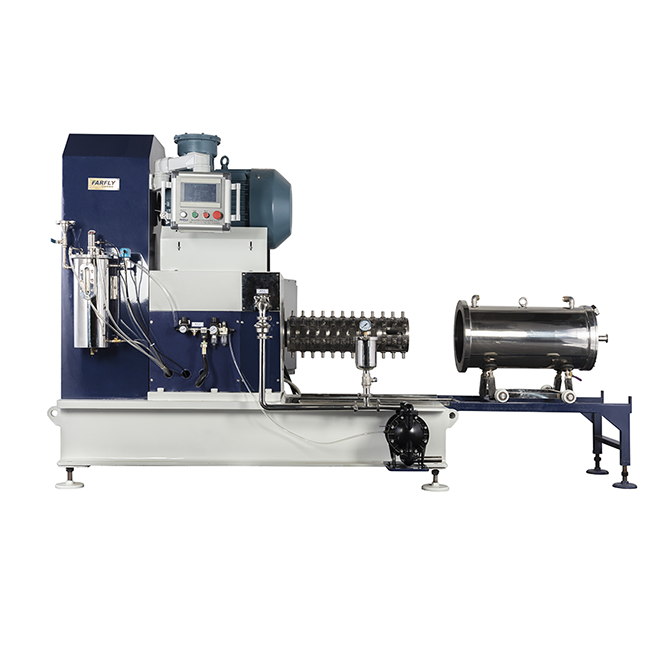 FDS High efficiency super fineness sand mill
Application area
Digital printing ink, solvent ink, water-based ink, automobile paint, industrial coating, pigments, color paste, and nanometer materials.
• New design of pin-type grinding components,high grinding efficiency high output, and low energy consumption.
• With smaller length/diameter ratio and higher energy density.
• Using high flux static centrifugal separation sieve, large discharging area, grinding medium no contact with the sieve, no
abrasion, with longer service life.
• Grinding Barrel and grinding rotor adopt forced cooling system, with lower discharging temperature and no influence on sensitive
materials.
• Using top high quality wear-resisting alloy steel, reduce pollution to products. Different materials are optional as per different
products, such as stainless steel, high polymer materials, ceramics, etc.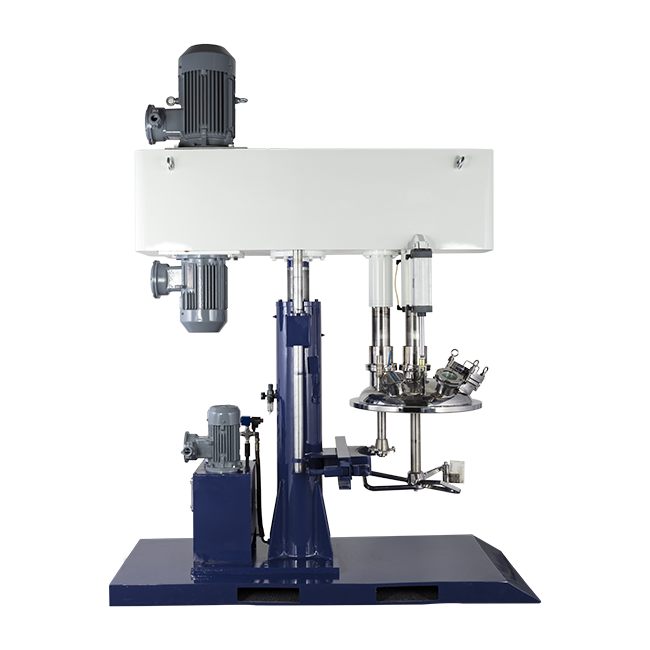 FDL Double shaft mixer
Principle
High efficiency mixing equipment applicable for high viscosity, to make material dispersing, dissolving and mixing uniform. Especially for coating, ink, pigment, etc…industries.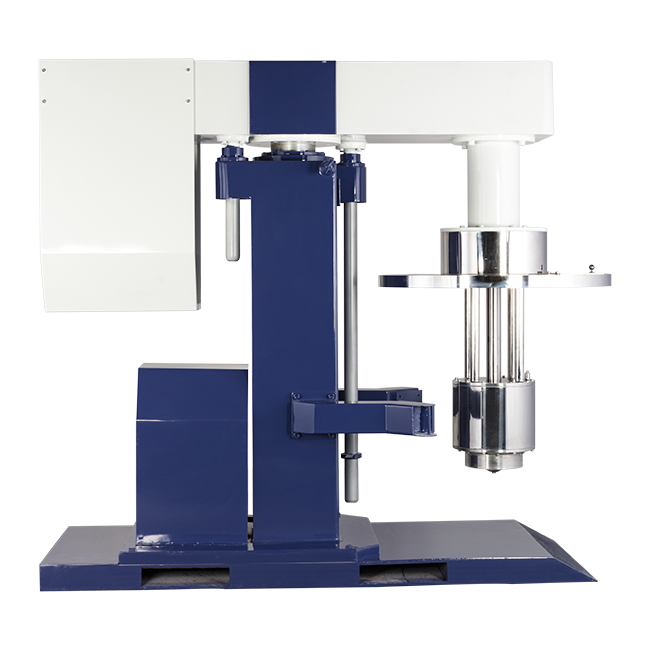 FTM Basket mill
Principle
The milling basket, containing the grinding bead is lowered into the mill base; the fast circulation of the mill base within the milling basket is generated by the dispersing disc and integrated pump wheel,and a very narrow particle size distribution can be achieved very quickly.
Characteristics
• Suita for producing small batch product and middle test. Dispersing and grinding are finished in one machine and one container, no
need extra pumps, piping, valves etc .
• Easy cleaning, no residues, convenient product replacement.
• Little grinding media required.Excellent grinding efficience and effect.
• Double-walled container for cooling and heating.
• Modular design of parts make it much more convenient to disassemble, maintain and overhaul, almost no need of professional maintainer.
FS Multi-function dispersing kettle
FS model multi-purpose dispersing kettle integrates the low speed strong stirring and high speed dispersing onto one body. It has very
good adaptability to middle and high viscosity and thixotropic material.
To stir and disperse at the same time can obtain the ideal result.
The machine is suitable for stirring, dissolving, dispersing and color mixing many kinds of materials. It features easy operation and strong
adaptability as an ideal stirring and dispersing multi-purpose equipment.
The dissolver is a fast, high-capacity disperser with a wide range of speeds and high level of efficiency.Push-button speed control.Speed indicator and automatic speed reduction.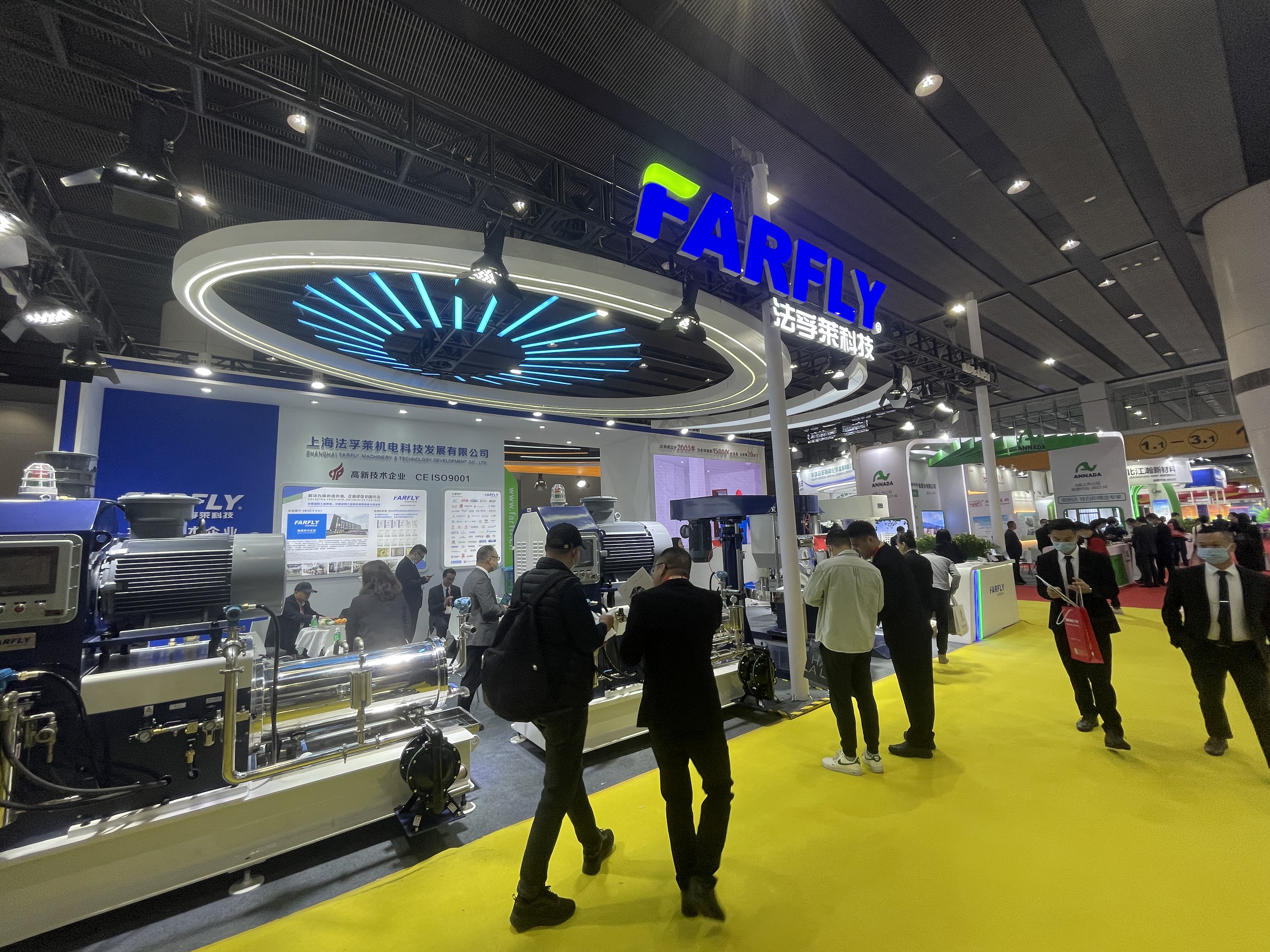 Farfly was founded in 2003. The company is a professional manufacturer of chemical machinery and equipment. The main products of the company are mixing equipment, dispersing equipment, high shear emulsification equipment, wet grinding equipment, powder mixing equipment and various reaction kettle, etc.And according to customer requirements to complete the core components of our products in the field of production line overall design, integration, installation and debugging.In 2020, the whole product series has passed the CE certification in line with the EU market.Farfly has been a member of China Coatings Industry Association.
Certificate
Over the past 20 years, the products have been exported to more than 100 countries around the world, and the export volume has been ranking first in the industry for years. Up to now, we have served more than 4000 companies, including many Fortune 500 companies. In 2020, although affected by the epidemic, under the leadership of the general manager Justin and the joint efforts of the staff of Farfly, the sales volume successfully exceeded 100 million. This year, Farfly successfully won the EPC project of the new Lankwitzer Anhui factory, and completed the layout of paint equipment for rail transportation and auto parts. Successfully signed a contract with Xiangjiang Group's wholly-owned subsidiary, Twin Towers Coatings, which means that Farfly has become the benchmark equipment in the anti-corrosive coatings industry. In the same year, successfully signed the technical upgrading project of Nippon Marine Paint Grinding Workshop; Suzhou Kefaman Printing and Dyeing Pulp Equipment Project, a wholly-owned subsidiary of Shanghai Argus. As well as the new lithium battery material Dalian Sinoma to obtain cooperation. At the beginning of the New Year in 2021, it obtained a large order of 50 million yuan from three trees. This great achievement means that the development of Farfly in the field of coatings is growing steadily. We will make persistent efforts, determined to walk in the forefront of the industry.
Cooperation
Over the past 18 years, Farfly has been adhering to the "solution provider, enterprise construction service" business philosophy, always adhering to the "customer-centered". High quality products, professional technology, perfect after-sales service by customers at home and abroad. Our products are not only limited to domestic, but also exported overseas. Africa, Europe, America, Southeast Asia and the Middle East all have our footprints. In the future, more and more domestic and foreign enterprises will choose Farflys. Thanks to the trust and support of our customers for a long time, we will never forget our original intention, go forward courageously, and aspire to become the leader of equipment in the coating industry. Welcome new and old customers to come to our booth to visit and exchange.